Microblading, Semi Permanent Brows, Brow Tattooing. What's the difference?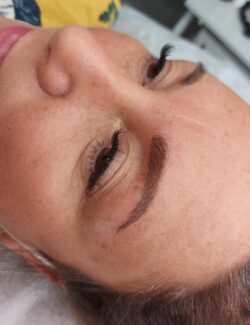 Microblading, Semi Permanent Brows, Brow Tattooing. What's the difference?
I agree it is a minefield when it comes to the world of Semi Permanent Makeup. So many names for the same thing! But in fact all of the above terms are actually the same thing. Both Microblading and Semi Permanent Brows are a form of tattooing – as they both deposit pigment into the skin. But don't let the term "tattooing" scare you. It is completely different than a traditional body tattoo. Semi Permanent Brows are implanted at a much more shallow depth meaning that over time it fades out. The needles are much finer and the strokes are extremely delicate.
Semi Permanent brows are performed via 2 methods –
Microblading – Using a hand piece and blade I apply pressure to the skin and manually create channels with the blade into the skin and deposit the pigment into the channels giving the illusion of hairs.
Digital Machine – The machine deposits the pigment at the desired depth into the skin via hair strokes. Shading can also be created in the brows using the machine method. This method is also used to create permanent eyeliner and lip colour.
Both methods create a similar effect and which I choose to use will depend on a number of things such as your skin type, skin structure, and desired outcome. I will choose the method which will give you the best finished look and also the method which will last you the longest and heal the best.
I specialise in creating the most natural looking brows. I do this by designing your Semi Permanent Brows around your natural brow shape, incorporating your own hairs into the hair strokes.
If you want to see more of my work click this link – https://www.thebeautyestablishment.co.uk/treatment-category/semi-permanent-eyebrows-microblading/
Your appointment always starts with a consultation. Here we discuss all your questions, go through the treatment and do your patch test.
Book your no obligation consultation today – Ring the salon or drop me an email –
01706355428
info@thebeautyestablishment.co.uk